What is Sarvatobhadra Chakra (SBC) ?
The Sarvatobhadra-chakra is a mysterious and secret chakra of ancient Jyotish, calculations for which are quite tedious and complicated. Kavi Narpati recorded it in "Narpatijayacharya Swarodaya" in the 12th century. In the same book Kavi Narpati described Swar Shastra through 20 Swar chakras and detailed the method of their use for prediction. The knowledge of Swarodaya (and Swar Shastra Jyotish) was one of the most secretly guarded secrets.
Besides several other purposes, the Sarvatobhadra-chakra is actively used for predicting the price-ranges of various commodities, metals, stocks, forex etc.
The legendry astro-trader, W.D. Gann used Sarvatobhadra chakra extensively and named it as "Square of Nine" to disguise his methodology. William Delbert Gann, better known the world over as W.D. Gann, is a legend in the world of stock and commodity trading. He was one of the most successful stock and commodity traders that ever lived.
Shyam has developed a Sarvatobhadra Chakra software, after more than 25 yrs of research, which is capable of doing extensive SBC related calculations. The copy of software has never been sold. It is for Shyam's personal use only. The following report is prepared with the help of that software only.
How the SBC values of various Varnas (Alphabets) are calculated?
Sarvatobhadra Chakra is drawn in a rectangle divided 9x9 = 81 sections and the counting is clockwise starting from the auspicious north-east corner the right-hand-top side and called the Ishana kona (also in use is SBC drawn by starting from left-hand-top side). The outer square or ring of 32 boxes depicts 28 nakshatras (7x7) with the four corners remaining allotted to four vowels, the immediately inner two rings – the aksharas i.e. vowels and consonants where the first swara or akshara of name is to be placed, the next inner ring – the signs and the inner-most - the week-days. In this manner the Chakra will cover 28 sections or vargas pertaining to the nakshatras, 12 to signs, 5 to tithis/weekdays, 16 to vowels and 20 to consonants – total 81 vargas. Its use involves the concept of Vedha. In this method the nakshatras aspect each other i.e. the nakshatra directly in opposite direction and the nakshatra which is to the left and the right. These 28 nakshatras also represent the Sapta Nadis.
Vedha, meaning – Obstruction, is the power of a planet to influence favourably (by benefic planets) or unfavourably through obstruction (by malefic planets), the influence is stronger when the planets influenced and influencing are exalted or retrograde but weaker if they be debilitated; a favourable vedha can nullify an adverse vedha.
The planets in direct motion at normal speed possess the front-vedha (or opposite-vedha) aspect, at accelerated motion the left–vedha and in retrograde motion – the backward–vedha (relative to their normal direction of movement). The Sun and the two lunar nodes have fixed front–vedha and vedha to the right and the left..
SAMPLE SBC STRENGTH CALCULATIONS FOR JPY AS ON 1st August 2021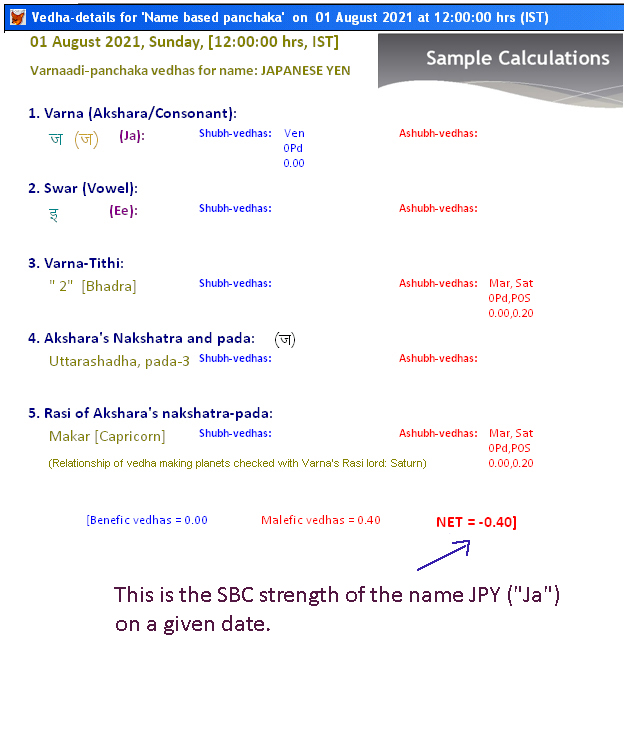 Astrological strengths of various World Currencies:
From: 1st September 2021 to 30th September 2021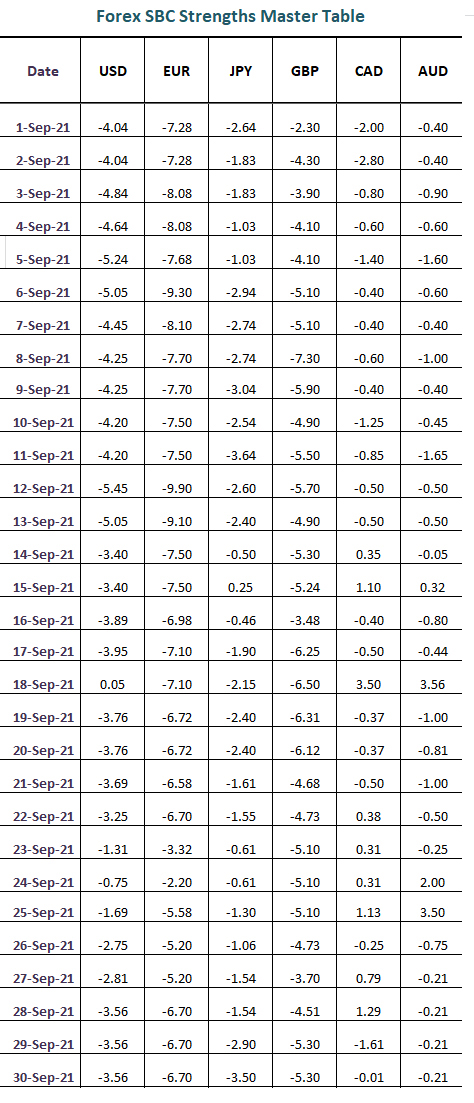 Note:
The above calculations have been done at 12:00 hrs Indian Standard Time (i.e. 5:30 hrs ahead of GMT). For your own Time Zone, add or deduct applicable time difference from Indian Standard Time.
HOW TO USE THE ABOVE TABLE OF SBC STRENGTHS:
The above SBC strength table is a master astrology table, covering all of the most popular currency pairs with the highest trading volumes. There are 6 data series in this table for the following 6 major currencies:
| | | | | | |
| --- | --- | --- | --- | --- | --- |
| (i) USD | (ii) EUR | (iii) JPY | (iv) GBP | (v) CAD | (vi) AUD |
You have to look at any two data series of your choice at a time.

Suppose you are interested in currency pair EUR/USD. In this case, you should look on the values in column-2 (EUR) and column-1 (USD). There may be following scenarios:
(a) Column-1 values are stable or going up but Column-2 values going down. The anticipated result: EUR should go down in comparison to USD.
(b) Column-1 values are going down but Column-2 values are stable or going up. The anticipated result: EUR should go up in comparison to USD.
(c) Column-1 values are going down and Column-2 values are also going down. OR, vice versa, Column-1 values are going up and Column-2 values are also going up. The rate of change in both the columns is also not much different, whether direction of value changes is up or down. The anticipated result: No significant changes in EUR/USD pair.

In this way, you may get astrological prediction for any currency pair formed from these 6 popular currencies. Concentrate on the dates where sudden huge change in astrological values are occuring.
Why subscribe to our Currency Market Forecasts?
* Most Unique Theory to Predict the Currency Market Trends
* Well known Hedge funds and Banks are subscribers of our services
* A highly successful track record
Subscription Options:
Please read our disclaimer before you order our services.
DURATION

Indian Rupees
INR
U.S. Dollars
USD
07 Days (Trial)
5,250
105
15 Days (Trial)
9,000
180
30 Days
15,000
300
91 Days
40,500
810
182 Days
76,500
1,530
365 Days
1,80,000
2,880
Ordering procedure:
You may remit the requisite payment through any mode, whichever is more convenient to you. Thereafter, send me an email with following details:
(a) Your name
(b) Your City and Country of residence
(c) Details of your payment (Amount, mode and date of remittance)
(d) Duration of the report required
(e) Start date of the report
(f) Your Mobile phone/ WhatsApp number
(g) Your email

My Phone, WhatsApp and email details are available on "Modes of Payment" page and "Contact" page.

Millionaires don't use astrology, the billionaires do.