| | | |
| --- | --- | --- |
| Geo-graphical coordinates: | Longitudes: 077 East 51 | Latitudes: 028 North 24 |
Bulandshahr is a district headquarter, located between Ganga and Yamuna rivers, in the Western part of Uttar Pradesh (U.P.), in India. It is surrounded by New Delhi, Meerut, Ghaziabad, Gautam Budh Nagar (NOIDA & Greater Noida) and Aligarh districts on it's various borders. The distances from various other well known cities and towns of Northern India, are as follows:
City

Distance from Bulandshahr

Direction from Bulandshahr

New Delhi:
(from Connaught place)

75 Kilometers (or, 47 miles)
(see driving instructions)

North-West

Agra:
(The city of Taj Mahal)

150 Kilometers (or, 93 miles)

South

Aligarh:

60 Kilometers (or, 38 miles)

South

Khurja:

20 Kilometers (or, 13 miles)

South

Jaipur:

320 Kilometers (or, 199 miles)

South-West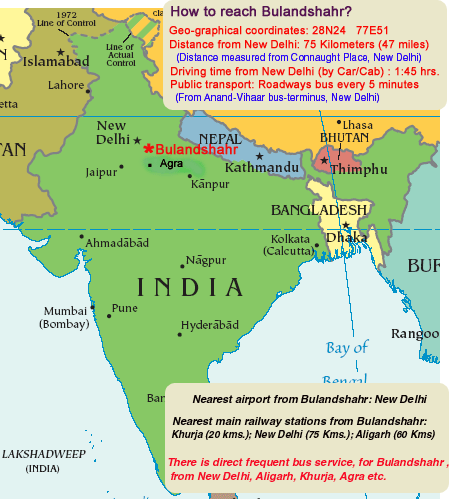 Bulandshahr is a major agricultural district. Sugarcane, wheat, maize and potato are cultivated in plenty. Small scale industries include local handicrafts, potteries and other artistic things. Cotton cloth printing is a popular craft. Potteries of Khurja are world famous. Kajaria tiles, Orient ceramics and Rajdoot paints are some of the major companies here. Bibcol factory for manufacturing polio vaccines is also located here.